Toyota Prius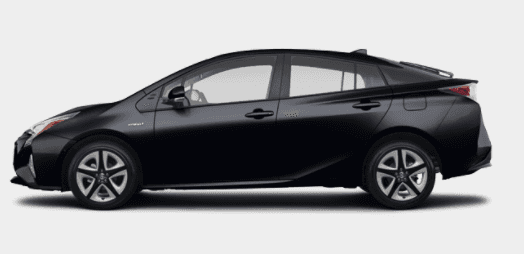 An amazing vehicle with the best fuel efficiency rating on the market, the Toyota Prius speaks for itself. This car comes with a hybrid engine that runs on both electricity and gasoline, which means you don't need to fill up your tank nearly as much as you might think. It gets an astounding 54 miles to the gallon in the city and around 50 miles per gallon on the highway. Every time you get behind the wheel, you'll save money. Now that's an offer you can't refuse.
A Sleek Design for All Your Adventures on the Road
Whether you like to cruise through the city or you're more of a highway pioneer, the Toyota Prius has the seamless style you've been craving. It has a compact body that doesn't take up too much room on the road, so you'll have no problem squeezing into some tight spaces. It comes with body-colored door handles and side-view mirrors for a stylish look. The windows also come slightly tinted, giving you more privacy when you're behind the wheel.
First-Class Safety Features
The Toyota Prius won't leave you unprotected on the road. It features a low tire pressure warning, so you'll always know when you need another pump of air. In addition to the front and passenger-side airbags, the car also comes with side airbags, protecting you from a collision on all sides. There's also an automatic lane departure warning to help you avoid an unpleasant accident when you're changing lanes or getting too close to the curb. The blind spot sensor will help you keep an eye out for cars right next to or behind your car. You don't have to worry about accidentally colliding into a car when you're going from lane to lane. The car comes with features that help you prevent an accident as well as those that help you stay safe in the event of an accident.
If you want to save money on gas and stay safe behind the wheel, the Toyota Prius is the right choice for you. Pick up one today at your localyour Kendall Toyota dealership!
Dealer Info
Mon - Sat

9:00 AM - 9:00 PM




Sun

10:00 AM - 8:00 PM



Mon - Fri

7:00 AM - 7:00 PM




Sat

7:00 AM - 6:00 PM




Sun

8:00 AM - 3:00 PM