Toyota 4Runner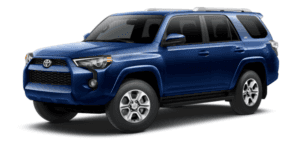 The Toyota 4Runner is one of the most durable vehicles in it class, giving you the freedom to explore the outdoors without worrying about getting stuck in the mud. It also comes with all the latest safety features, helping you meet any challenge head on. It also has a strong body-on-frame, so you can tackle those hills and rocks like a champion. Learn more about how the Toyota 4Runner brings a whole new meaning to the word durable.
Expert Handling Features
The Toyota 4Runner is so easy to handle it basically drives itself. It comes with vehicle stability control and a traction control, helping you stay in control when the going gets tough. The car is designed to limit the amount of shakiness you experience behind the wheel when you're cruising up and down steep inclines all day long. The engine features 270 hp @ 5600 rpm, giving you the strength you need to tackle any challenge that comes your way. You can haul all kinds of equipment anywhere you go without bogging down the vehicle with the extra weight.
Safety Features for Any Situation
Just because you like to go off-road doesn't mean that you like to put yourself in harm's way. The Toyota 4Runner comes with the best safety features in its class, including the Star Safety System™ with smart brake technology that's designed to keep the car on its toes. Some versions of the car also come with a Safety Connect® feature, so you'll always be connected to a support system. If you experience some car trouble in the middle of nowhere, you can quickly connect to a support hub and help will be on the way. You'll enjoy going off-road so much more when you known that a life line is just one push away.
With its durable body construction and powerful performance features, there's nothing you can't do with the Toyota 4Runner. There are lots of different models for you to choose from to find the perfect vehicle for your needs.
If you want to learn more about the Toyota 4Runner, stop by your Kendall Toyota dealership to speak to a sales agent.
Dealer Info
Mon - Sat

9:00 AM - 9:00 PM




Sun

10:00 AM - 8:00 PM



Mon - Fri

7:00 AM - 7:00 PM




Sat

7:00 AM - 6:00 PM




Sun

8:00 AM - 3:00 PM



View Our Inventory of Toyota 4Runners