We are your Toyota dealer near South Miami
Located only 3 miles north of Kendall Toyota sits the small town of South Miami, home to Sunset Place and a number of local favorites including Tacocraft and Cracked by Chef Adrianne. South Miami residents enjoy the close proximity to the Metrorail and ease of access to downtown Miami and Brickell.
If you're a South Miami resident shopping for a new Toyota, Kendall Toyota is the closest Toyota dealer to you! Our team of sales experts are always ready to help and want nothing more than to help you get the car you want at the right price. We're just a short 10 minute drive down US1 from Sunset Place.
Lease vs. Finance
When it comes to leasing or financing a vehicle, it all comes down to your preferences and how you plan to use your vehicle. Do you drive far distances? Does it matter if you have the newest model? Or do you drive low miles? It all depends on you!
If you're interested in leasing a vehicle, be aware that every lease comes with a limit of miles you can drive. Most Toyota leases allow for 12,000 miles per year or a total of 36,000 for a 3-year lease. You could add more miles but keep in mind, your monthly payments will go up as well, defeating the purpose of a lower monthly payment lease. Low monthly payments is the main reason why people often choose leases over financing.
If you're someone who drives more than the average person and likes to own their car, then financing is for you. Unlike leasing, you actually own your vehicle once the loan is paid off. You have free reign with your car and can modify it to your heart's desire, something you can't do with a leased vehicle. Possibly the best thing about financing a car is the fact that your payments are working towards something, owning your car. Once the car is paid off, your payments stop and that's one less worry you have.
Toyota Service and Parts near South Miami
Kendall Toyota's service department is one of the largest in the area, servicing residents from as north as Hialeah to as south as Florida City. Our parts department is equally huge and has just about any part for your Toyota. We highly recommend checking out our brand-new alignment system for your car. Just drive into our service bay and over the alignment system and it'll check to see if your car is due for an alignment, pretty cool right?
While you're waiting for your car in service, grab a snack and some coffee at Pinecrest Bakery Cafe, located towards the back of our service waiting area. Take a seat in our comfy leather couches and watch some TV, a member of our service team will contact you when your car is ready.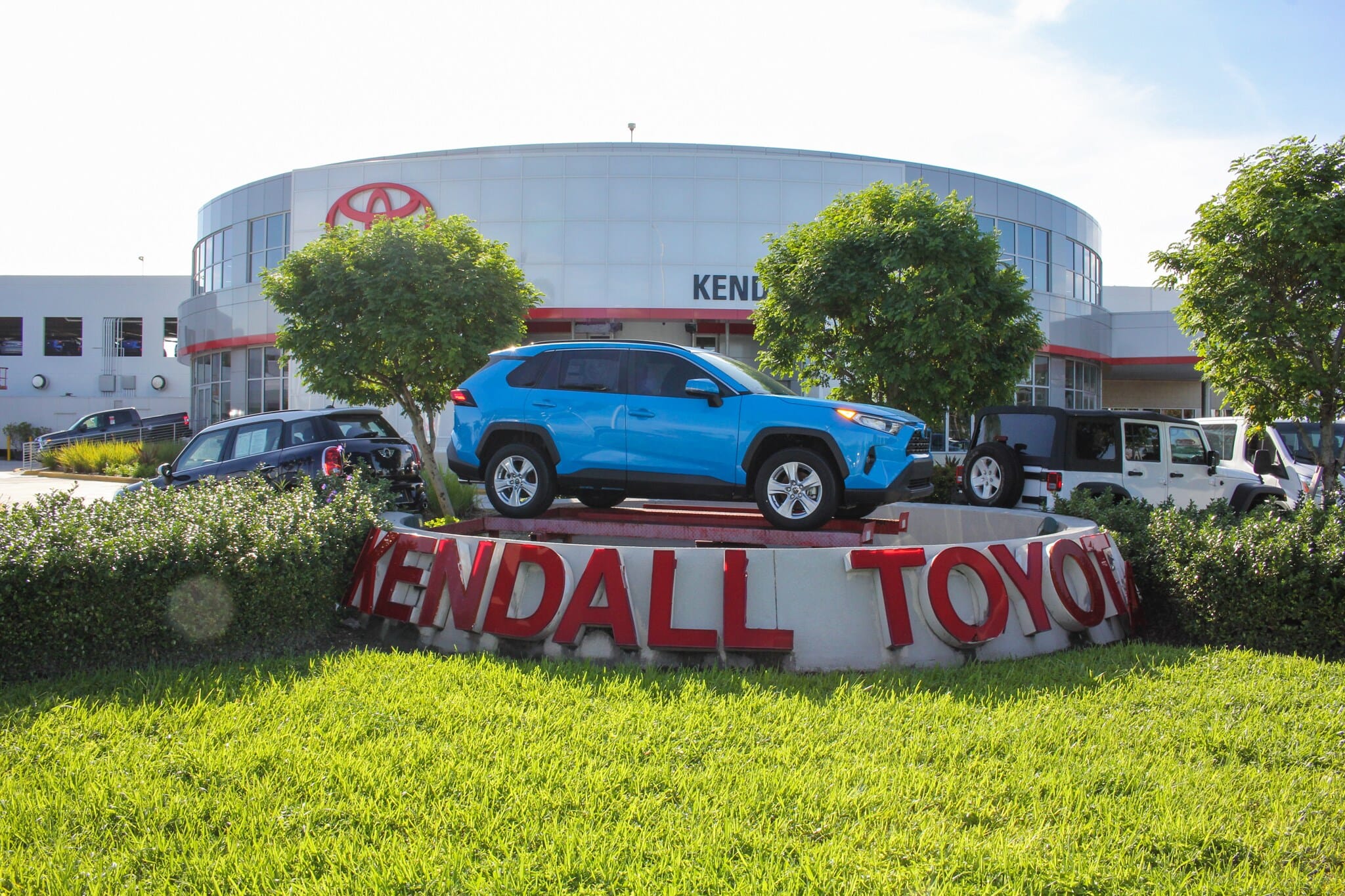 Visit your Neighborhood Toyota Dealer near South Miami
Check in on our website often since our deals are always changing! Our inventory is also always updating daily. If you find a car you like, be sure to schedule a test drive! As Kendall Toyota is one of the largest dealers in Miami, many people walk through our doors leaving satisfied with a new Toyota or used car. Join our family of happy customers and visit us today!