Abel Marti Zorrilla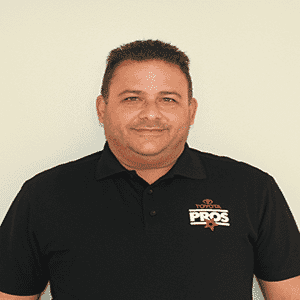 ABEL MARTI
Product Specialist
Kendall Toyota
Eileen Rodriguez
Great experience, got my favorite car for a great price. 100% would recommend!!!
Odalys Martinez
Five star sales person. Abel Marti listen to my needs and went far to meet my expectations. I appreciate his dedication! Thank you for making it possible!!!!!!
Rainer Perez
Great guy, always available and accessible at anytime. Down to earth and direct and knowledgeable of his business. He will show you the car you want, and let you know the info you need and work with the numbers and explain all the details …
Yenny Hernandez
Abel is the best. Very helpful. 5 stars!!!!!
Samantha Michelle
Did amazing with helping us out with our Lease. Had my husband and I test drive the car and answered all our questions. After we finished the paperwork, he showed us all the details and info on the car. I couldn't have chosen a better person to help us. Highly recommend !
Robert Grillo
Abel Marti Zorrilla helped us out and answered all our questions appropriately. He was right to the point and did his best to help us find what we needed. We found the car we wanted and for the price we wanted.
Painting the World
Amazing,,,great attention ,, if you want a toyota you have to come see this man he is the man you need ,, quickly, polite, without a doubt my next car will be recommended by this man
Zuri Andux
Mr. Zorrilla was incredibly helpful when I purchased my new car. He was trained very well to do business with others. Me and my family are super happy with his help to buy a new car!
Mariley Guerra
Excellent customer service. He helped me with my negotiation
Joel Ramos
Abel Marti the salesman was very helpful and assisted me in finding the perfect car within my budget and needs.
Monica Guevara
Mr. Zorrila's expertize was impeccable. He work with me and understood my needs. Walked away from Kendall Toyota super happy. Good job to everyone…
Mayte Hernandez
Great salesperson! Took my parents to buy a new car and he was very knowledgeable and patient with them. Abel has a great attitude and they left very happy with a 2019 CHR. Highly recommend him!!!!
3 Share
Henry Esmorís
He is a friendly seller and he is always attentive to the needs of each client
The salty Emu
He will fight for you and get you the best prices no matter what! Definitely recommend him to anyone.
Marie Gomez
Great sales person. Abel took care of all our car needs in a quick and responsible manner. Come see him!
Aisme Martínez Abreu
Abel Marti is the best seller of Kendall Toyota, very professional, nice person. He knows what you wants and give to you the best price. He has experience for more 14 years. I recommend them totally.
Giselle Navarro
Super funny and great sales person mainly because of his honestly and bluntness with how it is with no sugar coat. Highly recommend
Jessenia Ortega
Excellent salesperson, very knowledgeable and upfront . Humble and very service oriented. We couldn't have asked for a better salesperson! Abel Marti, thanks for your help.
Claudia Ortega
Excellent customer service. He helped me with my negotiation and setup my new car with all the apps.
Cinthia Perdomo
The best seller in Kendall Toyota
Vanessa Alonso
Abel is charismatic and nice. It is always a pleasure to negotiate with him. I am very proud of people like him who come from Matanzas, Cuba. And with his hard work and dedication become an amazing busy man who he is today. I will strongly recommend him as a sales representative. You will happily close your transaction. God bless him!
Kelly Pr
I had the pleasure to meet Mr. Abel Martin today. Excellent customer service, he was very supportive, and professional through the whole process to get the car I always wanted. I will highly recommend Abel Marti for future business. He guided me to the perfect car based on my personal preferences. Thank you so much Abel Marti.
Mimi
I came to see the new rav4 2019 just wow!!! This car is amazing drives like if you where in the clouds smooth but yet tuff when you go on the gas I came across Abel one of the sales rep he was very helpful and advised me of the great features this car brings . Thank Kendall Toyota 😀
Nilba Linares
Abel Marti was very friendly and easy to negotiate with. Osvaldo Garcia, finance manager, was also excellent. They were quite knowledgeable and answered all our questions. Thank you both for making this car purchase a positive experience.
Jennifer Woodward
Super nice. Super helpful. The best of Kendall Toyota. 😀😀😀
Alenia Mursuli
I just wanted to take a minute to rate my recent experience at Kendall Toyota. As you can see a gave it five stars .This was a very smooth process from beginning to end Mr. Abel Marti was an excellent salesman his approach is quite relaxed …
Alejandro Yergo
Very good services
Z Vega
The best sales person
Dayler Reyes
Let's start by saying amaizing dealer and amizing Crew from the moment you go in, you feel at home, Everyone it's so nice specially Abel Martin, he was so helpful
Tirso
Mr. Marti was very professional and understanding about my situation.
I would recommend him and Kendall Toyota
very highly. Thank you again, we are very happy with our new toyota.
RODOLFO VILLETA
Very professional, courteous very friendly I will definitely will recommend my friends and family to go see him with out any doubt. Great service.
Carla Beauty
Abel is great!! Excellent service 🙂
Gustavo Corral
Outstanding customer service! We just came out with the 4th car sold by this same Gentleman! Very good service and always helpful!
Gabbsters
It was a great experience! Abel Marti was so nice and funny he made the experience enjoyable. Got in and out very quickly, great service!
Alejandro Perez
Abel Marti was a great today and helped me today to get the car I wanted, he tried every possible ways to help and thanks to him I am getting out of here today with a brand new car
Jefferson Gomez
The best seller in this place, thank you for helping me and answer all my mother's questions!!! El mejor de todos.
Janet
Very satisfied with service provided, love my new Rav4 2017 he made the impossible, POSSIBLE for me very grateful! Can highly recommend you come buy your new set of wheels with Abel Marti! Can guarentee you will leave very HAPPY AND SATISFIED!
Tatianna Basanta
Abel was very helpful and helped me get a great deal on my car. I'm so thankful!!!
Maria Lopez
Abel is a nice salesman he help me find the car I wanted!
Manuel Alejandro Rodríguez Medina
Excellent service, he knows what you wants and give it to you in the best price, awesome experience and highly recommended.
Claudia Torrens
Great service, fast and smooth sales experience!
Jerlyn Laza
Thank you Abel for you excellence service, and providing all the info i needed to buy my first car . Will highly recommend you to anyone i know 🙂 So extremely happy with my new 2017 Camry. THANK YOU !
Pietro Giordano
Abel is a high skilled businessman. He drive me to the best deal, is very expert and reliable, I really appreciate his help as a professional and a friend.
Gustavo Canelon
Knows his cars, is not pushy and does his best to make sure you get the car YOU want.
Rainiero Victoria
Great guy always there when I need him to help with selecting which car to buy calls me when there's
Good offers thanks Abel Marti
Michael Mirabal
A very helpful and, friendly proffesional salesman, bought two vehicles from him in the past, hassle free.
José Chacin
Excellent attention. Abel and Michael Fermin are the best team
Bonnie Barros
Very helpful and great attitude. Strongly recommend.
Sheila Zaldivar Oliva
Abel is very professional, feels identified with the client and always tries to help. I recommend Abel 100% if you want a win-win with Abel you will go happy.
JORGE BLAS SUAREZ TORRES
Abel very nice , and good seller, I fell very good at my negotiation.
Yoanna Arroyo
I personally recommend him to everyone, he is the best, very nice and patient!!!
Osvaldo H Sosa Yeras
Excellent costumer service. Available for u 24/7.
Izack D
Had a great experience with Abel Marti a real down to earth guy that knows how to treat ppl I walked in with doubts on Getty a new car but thank to Abel I walked out with a brand new Toyota Highlander couldn't have asked for a better experience
Nara Castro
Abel marti the best!!!!
Jose Luis Diaz Tejera
The best seller of the West Kendall Toyota!!!
Anneris Montalvo
Very helpful man and honest.
lucinio gil Hernandez
Nice guy , awesome vendor, very helpful
Freddy Alcala
The best sales consultant in miami
Magda DEL PINO
Muyyyyy PROFESIONALLLL
Bella Smile Dentistry
Abel is an amazing guy, thank you for you help!
luisa marussi barboza
Great service and professionalism.
Adrianabell Menocal
Great customer service!
Michael Lopez
Excellent salesmant
Jose Gonzalez
I have bought 4 cars from Abel and I will continue doing it. That says everything
Ricardo J Bestard Flores
The best ever..
Iliec Ojito
Excelente vendedor,muy atento y amable muchas gracias por su paciencia lo recomiendo 100%
Gresire Vasquez
Excelente vendedor, siempre atento y me ayudó en todo. Honesto y lo recomiendo 100%.
Espe Concepcion
La atencion fue la mejor ,maravillosa,muy buen vendedor,sali muy complacida,se los recomiendo
Lilian Batista
I have never felt so satisfied with the attention of Mr. Abel in this dealer, very friendly, very quickly and with a wonderful ending, I got the car I was really looking for. I feel super happy, MY RECOMMENDATIONS to …
Yanexi De la paz
Abel Marti was very kind, I answer all my questions always with a smile, I explain everything very well and I look for exactly what I wanted. Thanks, Abel, for your wonderful service. I recommend it 100%
Fernando Sarrameda
Excelente persona, muy atenta y siempre busco la manera de colaborarme para poder adquirir mi carro.. 100% recomendado
Gricel Crespo
Muy buen vendedor ,muy buen negociante y muy servicial
Gracias 🙏 Sra Grisel
Excelente servicio , me gusto el trato gracias,
Aristides Tapanes
La mejor atencion q puedas encontrar en.un deale
Zenia Cisilia
El mejor de los vendedores de autos, la mejor experiencia que tuve al comprar el auto de mi madre, se los recomiendo 💯 five stars ⭐️ ⭐️⭐️⭐️⭐️
Daniel Cedeño
Excelente lugar, Abel Marti es una
persona con un alto compromiso
de colaboración, agradezco su
atención toda nuestra familia salio
super feliz
Yenny Montilla
Abel many thanks for everything 🤗 excellent human quality great seller, I would buy again with the 👌
Maira Rivero
4 reviews
Buena atencion. Buen servicio. Gracias por su atencion.
Elice Vizcaya
Mr. Abel Marti and Ms. Yaima are excellent in dealings and help to get the best financing with your real credit recommended 100% a thousand thanks at Kendall Toyota
Katerine Rosa
Buen servicio, buena persona, y buen trato, gracias
Liliana Alfonso
Abel Martí a super seller, excellent service, very friendly, he explains everything about the sale.
Abel Martí
un super vendedor , excelente servicio ,muy amable ,te explica todo sobre la venta .
Emilse Hechavarria
I am very happy with my new Toyota Corolla SE thanks to Abel who did an excellent job, I highly recommend that you contact Abel he has an exceptional character you will not regret without a doubt he is the best seller …
Olga Gonzalez lopez
I want to thank Abel Marti for his great services that prinda to his client, so that we always remain satifechos and our dreams are fulfilled, thank you very much dedication and attention
Michel Brito
Excellent treatment of Abel Marti. When you make a business with it you feel that you talk to a friend. To know and clarify any questions regarding the purchase of a Toyota I recommend it. You will leave more than …
rosaidy zamora
Abel marti me dio un exelente servicio y atencion se los recomiendo.
Maritza Pineiro
Today, 12/22/2018, I went to the dealership of the Toyota that is located in Kendal and I was attended by the seller Abel with professionalism, dedication, good treatment and above all, he made a good business, thanks …
Yovany Torres
Aber Martí para mí es el mejor vendedor del dealer Kendall Toyota compren con Abel dile
Amanda Arenas
Excellent person and very professional in his work, 100% recommended in Kendall Toyota. Thank you very much for the work you do, it was a pleasure and satisfaction to have been your client.
Chef Ramoncito
Un vendedor muy serio y con la verdad en la mano , sin mucho rodeo te da buenos números !!! Se los recomiendo a todos
Antonio Duran
Excelente trato y profesionalismo, recomiendo Abel Marti.
Yamilee Lamadrid
Abel era de los más agradable y sinceros Nuestra experiencia con el fue súper. Si necesitas un caro nuevo con el té va a venir todo muy fácil.
Yainet Santana
I loved this place, Mr. Abel Martí took great care of me, he was very friendly and professional. He explained everything to me very well and gave me a lot of confidence when choosing my car. I left very happy and …
c m
5 reviews
Without a doubt Abel Marti is the best seller of Kendall Toyota !!!! He facilitated the entire purchase process of my Toyota Highlander 2018 from start to finish !!! I'm going to recommend you to all my friends !!!!! …
Idoleisi Martínez Fajardo
Super happy and pleased with the purchase of my car thanks to the professionalism and kindness of Mr. Abel Marti, I recommend them when they go to buy a car in Kendal Toyota ask for him and for the financier Robin …
Maurilio Armando Marante
Excellent person very serious and professional in their work I recommend them ask for it in the institution of Toyota kendall.
He will finance Robin great person and efficient in his work. Congratulations to both for …
Tatiana Alvarado
Muy Buena atencion de parte del vendedor Abel Marti siempre pensando en lo mejor para el Cliente.
Mayelin Marante
El Sr Abel Marti, es excelente. Nos dio una atención súper especial.
Si necesita comprar un carro, contáctelo.
Vera que será atendido con mucho empeño en que ud logre sus sueños, como hoy nosotros lo logramos
the fisherman 88
Despues de comprar 2 carros el mismo dia , ya no se pudo hablar con el ( mucho menos on phone ) , por que ya no interesa tu negocio
Carlos Martínez
Excelente servicio y atencion, de verdad no puedes encontrar mejor servicio del que te brinda Abel desde que entras por la puerta. 100% recomendado.
Isabe Cristina Prince
Abel Marti has given us a good service, he is very professional, very good all his explanation, very accommodating and always trying to make the client choose the best and the best combination
Dario Dominguez
Excelente el trato!! Extrema profesionalidad a la par de un trato amigable.. Altamente recomendado
Paula Elena Fernandez
Muy excelente en todo
Ileana Valdes
Excelente vendedor, muy atento. Siempre q se le llama responde con prontitud. Espero q podamos vernos el próximo año con una buena oferta.
marbelis diaz
Estoy muy satisfecha con el trato de Abel Marti , me voy clara en tomar una desicion , gracias Abel.
Ivonne Gil
The attention of Anel Marti seller of Kendal Toyota was special praised him to continue providing this service to all people who come to the center to meet their needs as they were satisfied mine and to leave pleased, …
Jose Diaz Quesada
Muy buena atencion por parte del señor abel marti en kendall toyota
Heisel Ballester
El mejor vendedor, se los recomiendo, cuando vengan a Kendall Toyota pregunten por Abel Marti, excelente
Yusmaida Tumbeiro
Hoy compramos un Toyota Corolla con el vendedor …
Magvis Victor Beba n Bebo
The seller's attention to the customer is excellent. His knowledge of the Toyota brand is impressive. So you can get the car you are looking for inside the Dealer Kendal Toyota and attended by one of its best sellers …
Dayana de las Mercedes Llaguno
Abel marti nos prestó excelente atención , muy profesional
Maribel Roque
Muy profesional estoy muy feliz con el servicio y feliz con mi Toyota que amo.
Gracias Abel por tu ayuda y tu excelente servicio.
Jonah Valdes
Excellent work from the sales representative Abel marti zorrilla. Muy atento, muy eficiente, y mas q preparado para resolver un buen negocio.
Marielisa Velasquez
Excelente atencion! Agradecida con la explicacion, muy amable
Adanay Borges
Es el mejor vendedor , excelente servicio muy rapido todo , muchas gracias sali muy contenta con mi nuevo carro.
Eleana Pardo
Agradecida por su atencion, y amable explicacion. Un gusto por todo, atencion total!
Yunior Tamayo Rojas
El señor Abel Martí Zorrilla tuvo una gran …
Anaisis Lara
My experience with the seller Abel Marti Zorrilla is excellent and he is a very attentive seller and is always available to help you, you always leave with his attention very satisfied with the best car and the best …
Reynaldo Quintana
Execelente atención
Danay Perojo
Abel marti zorrilla when I arrived at Toyota to find the car of my dreams helped me in everything was attentive and very fast and precise in what I was looking for thanks to him I super happy I recommend it …
Fiorella Matacchione
Fue una atención maravillosa de parte de Abel verdaderamente muy complacida y agradecida
aleanne casas
Muy satisfecha con la atención de Abel Marti me sentí muy cómoda con la Negociación
Eddy Llaguno
Abel marti nos brindó muy buena atención y una persona muy profesional
Andrea Lander
Abel.. el mejor vendedor 👍🏼 Lo recomiendo 100%! Atención y solución inmendiata 😬😬 súper agradecida.. gracias
aylemis fernandez san roman
Abel marti zorrilla, the best service, not only helps you in what you prefer but I also recommend the best for you, treats you like your family and if he has to spend the day with you he does it with the best …
Claudia Valdes
Amable y calificado nos guió por todo el proceso de la selección y compra del auto.
Daniel Hung
El servicio de Abel marti zorrilla fue excelente buen trató, les recomendó que lo busquen y el los atenderá excelentemente.
Liset Gonzalez
El mejor vendedor una super atencion y 100%complacido con la venta lo recomendamos 👍👍
Lisbeth Dominguez
Kendal Toyota un trato maravilloso estoy muy satisfecha con el trato del señor abel marti muchas gracias
Antonio Fernandez
Abel Martí. Excelente vendedor. Servicio eficiente y esmerado. Muy profesional en su trabajo. Ejemplo de dedicacion y atención mantenida al cliente.
A cualquier hora que lo molestes siempre está dispuesto a ayudarte y atender a sus …
Juan Fraga
Es un buen vendedor, amable y cortés lo recomiendo siempre a mis amigo y familiares, sige así abel….saludos.
Bladimir Robles
Les recomiendo mucho ah abel linda persona.. 👍👌
Manny Gonzalez
gracias senor abbel Marty por su Gran servicio tu amabilidad y paciencia
Yeiser Rondón
Excelente atención y calidad en el servicio, nos asesoraron en todo, agradecimiento total al Sr. Abel Marti y Douglas de la Mota
Jeannett Corea
I want to comment on the seller, abel Martí, who is an excellent seller and above all, an excellent friend, because I could not be better served, and Mr. Robin Vásquez, that my first purchase was possible and thank …
Gretty Henry
Abel Martí, excelente atención 100% recomendado!
Yanet hernandez
The service of the seller abel marti zorrilla has been excellent, very good treatment, attention, gives them a correct and detailed explanation of the car which leaves them pleased and happy with the decision made. …
Erick Noel Ramos Godinez
Muy contento con la compra en Kendal Toyota, …
GENOVA UPHOLSTERY
The best sale parson in south Florida Toyota . Muy buen servicio y la mejor atención de Kendal Toyota , lo garantizo por ser mi vendedor preferido en los últimos nueve años que ingrese a Toyota y ya me vendió 8 carros . Jamás realiso …
Teresita Manrique
Excelente atencion y servicio. Recomiendo a Abel 100%.
Wilkyn Martinez
La mayor experiencia y una atencion excelente el mejor vendedor lo recomendamos
Alberto Villalobos
Excellent attention from all the staff of Toyota Kendall and especially Mr. Abel Marti, going to Toyota Kendall is going out with the vehicle you want and the best of all they think about your economy. Super satisfied …
Maria Fermin
Es una persona extraordinaria, mucha calidad humana y un alto nivel profesional,un buen vendedor
fraga prieto
Super nice guy, directo y sin engaños ,buenos precios! Yo y mi familia estamos agradecidos
Carmen Maria
Mr. Abel Martí is, for me, the best seller in the Toyota. He is kind, attentive, courteous, he makes you feel like family. All mine, we have bought the cars in the Toyota, with Mr. Martí, it is truly excellent. I …
Raysi Hernandez
Muy buen servicio y atención. Gracias.
Pena Jose
El senor abel marti me atendio con …
Daumier Lima
Si usted quiere que le hablen con sinceridad les recomiendo 100% Abel Martí gracias por tu ayuda
Sonia Delucchi
Abel marti servicio excelente, resolviendo todas mis dudas
Gisela Contasti
Abel es un súper vendedor dos veces he venido sin la intención de comprar y he salido con un Toyota . Inspira confianza
Julio E Perez
Abel Marti nos ofrecio el mejor servicio al estilo antiguo. Profecionalismo, honestidad y la seguridad de saber obtenido el mejor precio.
Felix Rodriguez
Super professional estelar sentido de la atencion al cliente
Carlos Perez
Excelente atención
Luis Rendon
Excellent attention
Excelente atención
Zoila Hernandez
Abel Martín muy amable y su servicio excelente quede muy encantada
Esperanza Morales
Es muy profesional, y muy paciente a …
maria orta
Muchísimas gracias Abel Marti, fue un placer que me hayas ayudado, nunca antes había recibido un servicio tan bueno
carlos la rosa
Desearia que todos los vendedores de carros tuvieran la calidad humana del señor Abel Marti.
Yanelis Cruz
Abel Martí buen servicio y ayuda excelente
Elizabeth Pons Rodriguez
Muy profesional, he quedado muy satisfecha con el servicio y el trato presenciado, Recomiendo Abel como un excelente vendedor.
Isaac Caled
Excelente
Luis Semidey
Gracias por la atención y 100% recomendado
Carlos Contreras
Excelente atención!!!!de Abel Marti
Gaby Navarro
Excelente atención, excelente servicio!!
Yaima Pelaez
La mejor calidad humana, maxima experiencia, mil gracias Abel Marti!!!!!!
Tony Mier
Exelente servicio ,el mejor vendedor
Giovanni Arangu saer
Excelente vendedor y persona de los mejores no obtienes un no todo lo puede
Alejandro Ferrer
Excelente trato, buena asesoría…
Rosa Arcady
Abel Martínez excelente servicio
sieward buining
Si quieren comprar un auto este hombre es el mejor recomendado 100%
Kirenia Guerrero
Alexis Gil González
Joe Cobbs
Yanet Reynaldo
Paola Ponce
Clara Guermes
Veronica Mancilla
Patricia Sanchez
Carlos Valdes
Diana Elias
Maribel Hernandez
Hector Suarez
Liaris Ayala